Maintenance
Full maintenance provided by Amelia Tech and Amelia System to ensure responsiveness and safety
Located in Saint-Brieuc, France, our maintenance center is responsible for the upkeep of aircraft under our responsibility.
From our hangars, we carry out the base and line maintenance of our fleet ourselves.
Our technicians are ready to leave at any time to intervene in case of unforeseen circumstances.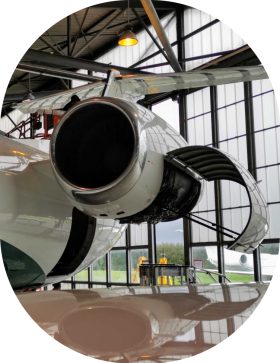 Responsiveness is our priority
Each major maintenance visit of our aircraft is scheduled in agreement with the manufacturers and according to the company's operational activities.
Safety is the priority of maintenance. All maintenance actions are carried out with care and efficiency. This allows us to ensure the punctuality of our flights and a smooth journey for our passengers.
The internalization of our maintenance guarantees a quality control of the whole value chain and an exceptional reactivity. In order to intervene as quickly as possible, Amelia has several PART 145 certified line maintenance stations in Europe and Africa, in addition to in addition to our maintenance center in Saint-Brieuc. 
Our hangars can accommodate 2 aircraft simultaneously in full compliance with the manufacturer's quality requirements and with the certification of various international authorities (EASA, FAA, CAAC).
Amelia is EASA PART145 approved for:
Based in Brittany since 2015
Initially based in Dinard, Airmain (now Amelia Tech) moved to Saint-Brieuc in the summer of 2016.
Since then, the team has consistently grown from 10 employees to 40 in 2022.